On July 24, 2022, Construction Joint Stock Company 47 (HOSE: C47) signed the contract for construction of Nam Pha, Nam Phak and Phouphong Dams under Nam Phak Hydropower Project, Lao PDR with Song Da 5 Joint Stock Company (SD5). This is an opening contract within the previously signed strategic cooperation program between C47 and SD5, in order to exploit and promote the strengths in the operation and business fields of the both, especially construction of the oversee large-scale projects.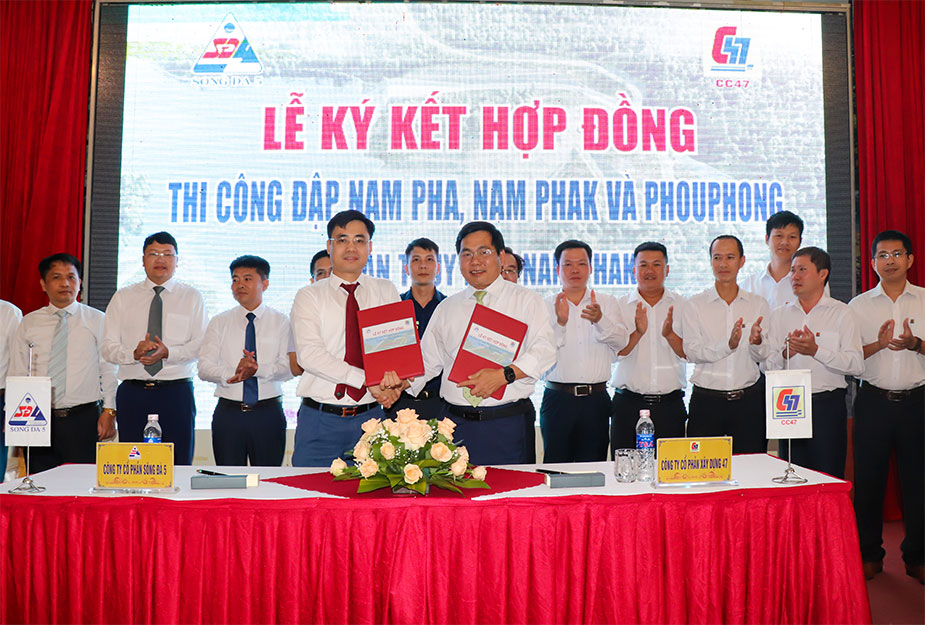 At the ceremony, two parties signed two contracts including: Contract for construction of Nam Pha, Nam Phak and Phouphong Dams and Contract for mix design and testing for main works under Nam Phak Hydropower Project, with total value of nearly VND 800 billion, the expected completion time is 1,458 days.
For signing this contract, almost for a year, C47 and SD5 coordinated to negotiate with the Project Owner. The construction contract with main volume of about 6.0 million m3 of rock and soil excavation, this is one of strengths of C47. With the current capacity, C47 will definitely execute the contract to ensure progress, quality and efficiency.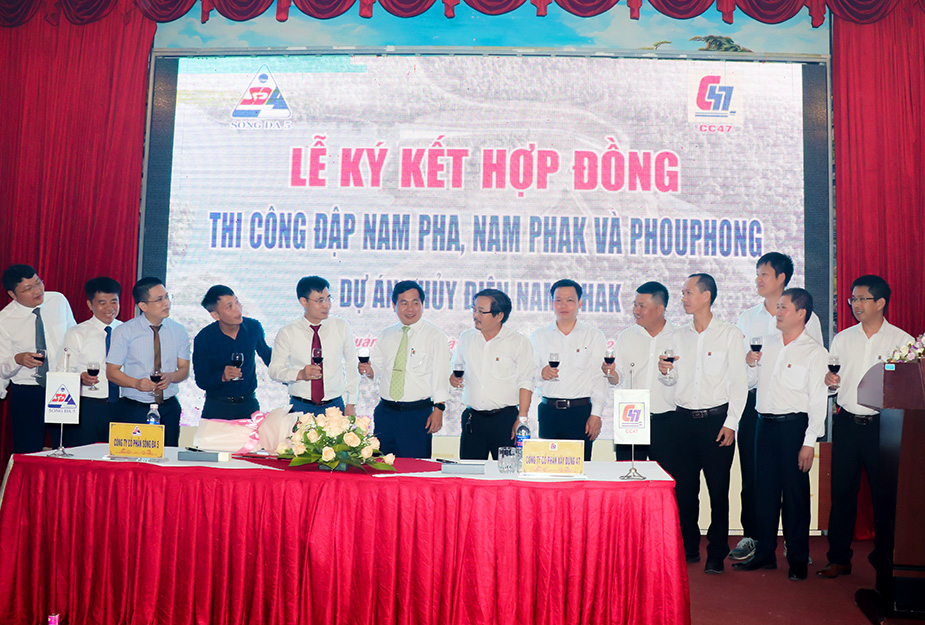 Nam Phak hydropower project with total installed capacity of 128 MW is located in the Southwest of Bolaven Plateau, about 10 km southwest of Paksong in the southern region of Lao PDR and takes advantage of the high elevation variations of 700m between the plateau and the plain to the south. The project will gather flows from several streams on the plateau flowing in the northwest and southwest directions and divert this flow through two streams to Nam Pha reservoir. The preferred scheme includes two reservoirs and two power generation facilities, of which the larger facility is located on the shores of Houay Namphak at foot of the plateau cliffs.
This is an important package that determines the project quality and selection of a good contractor is a prerequisite. C47 is a long-tradition company and a leading construction firm in fields of irrigation, hydropower, civil and industrial works across the country, who has fully met the requirements of package requirements and is selected for project implementation.
Thus, from the early of year to July 2022, total newly contracted value of C47 with the project owners and strategic partners is more than VND 1,200 billion, which includes the following projects:
Excavating and levelling work item for the plan preparation under Hoa Phat Dung Quat 2 Steel Integrated Complex Project.
Bridge item of Cat Tien – Diem Van road section under Binh Dinh Province Coastal Road Project.
Infrastructure item under Becamex Binh Dinh Industrial Park Project.
Leveling work item under Long Thanh International Airport – Phase 1.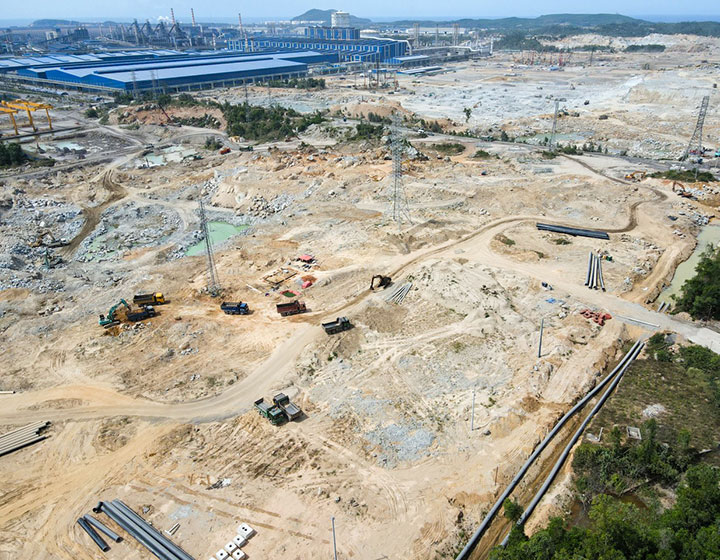 Currently, C47 is continuing to negotiate with the project owners and partners to expand the scope of work, adding the contracts and the contract addendums for the on-going projects in order to optimize the construction revenue and profit. In addition, C47 is promoting of bidding and contract negotiating for new projects in 2022-2023 with total value of about VND 5,000 billion, ensure continuous works for the coming years. Previously, in 2021, C47 signed and commenced the construction works with total contracted value of nearly VND 2,000 billion for implementation period from 2021 to 2025, such as Hoa Binh Hydropower Plant Expansion Project (Hoa Binh province), Phu Phong Wier Dam Project (Binh Dinh province), Separate Wastewater Collection System and Rain Water Transfer Sewers to Han River Project (Da Nang city), Ta Hoet Reservoir Project (Lam Dong province).
For the sectors of hospitality and travel services of C47, after nearly two years of "freezing" in 2020 and 2021 because of the Covid-19 pandemic, 2022 is seeing a strong recovery. Besides owning 100% of system of 2 hotels including 4-star Hai Au Hotel with 170 guest rooms and 3-star Hai Au Bien Cuong Hotel with 80 guest rooms, and a system of Hai Au restaurants, Cafe & Bar at the hotels, C47 also owned 100% of Hai Au Travel Service Co., Ltd., regularly organizes domestic and foreign tours to serve customers in many provinces. This system sets a revenue target of more than VND 100 billion in 2022, EBITDA over VND 30 billion. This is also the sector that makes a significant contribution to C47's annual business performance.