Focus on vocational training and labor export to Japan
After signing the cooperation agreement on vocational training and labor export to Japan with some Japanese partners, the Binh Dinh Center for Tourism Vocational Training and Labor Export Service (under Construction Joint Stock Company 47) is recruiting students for vocational training and labor export to Japan. Binh Dinh Newspaper interviewed Mr. Nguyen Van Phuc, Director of the Center around this issue.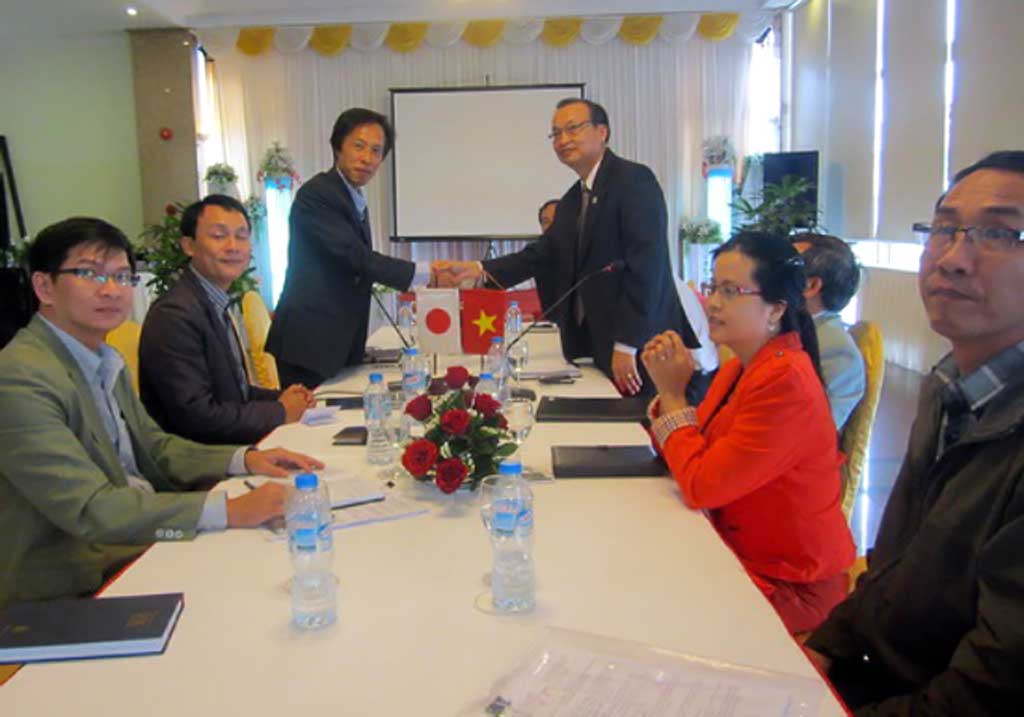 * What do you think about the opportunities and needs of labor export to Japan?
– In recent years, the labor export to Malaysia and Philippine market is gradually leveling off. Meanwhile, Japan is focusing on attracting youngoversea people, especially from Vietnam, where there are many cultural similarities and stable economic development. In particular, Japan is seeking to attract construction workers to overcome the aftermath of the earthquake and tsunami disaster and to build facilities for the 2020 Olympic and Paralympic Games in Tokyo. With preferential and attractive wages, it can be said that the demand for labor export to Japan in 2014 in the Vietnamese market is very hot and potential, especially in the central region in general and Binh Dinh in particular.
* It is known that Binh Dinh Center for Tourism Vocational Training and Labor Export Service has signed an agreement with Japanese partners on vocational training and labor export to Japan, please tell us in detail?
– In recent years, our province has attracted large Japanese corporations to Binh Dinh to study the market, find investment opportunities and seek labors. On this occasion, the Center and the Labor Export Department of Construction Joint Stock 47 signed a cooperation agreement with some large Japanese corporations, especially Kokusai Bijinesu Konsarutingu Jigyo Kyodo Kumiai (IBCA). "Honest and trustworthy are our top two criteria for selecting partners who provide labor export to Japan" said Mitani, Representative of the IBCA Trade Union. "And I thought that Construction Joint Stock Company 47 is a perfectly appropriate partner. Japanese companies now have a lot of labor demand for the construction, welding and casting industries, etc. Monthly, our union will directly survey and interview for qualified and passed candidates to work in Japan".
Some Japanese companies also visited Binh Dinh to survey the Center capacity and agreed to cooperate long term, and interviewed the qualified candidates to work in Japan with attractive salary, from 30 to 35 million per month. Employees in Japan are not only helping to earn money only but also helping to be learned, trainned and experienced on Japanese work skills and techniques. This is an opportunity for disadvantaged students and those who wish to work in Japan have a high income, improve their living standards.
* Could you tell us more about the capacity as well as the training objectives of the Center?
– In addition to the human resource training for the tourism industry, the Center also recruited, trained and directly supplied Vietnamese human resources to definite-period work abroad in accordance with the Permit granted by the Authority. The labor force provided by the Center is diversified in terms of occupations, such as welding, electricity, casting and construction, etc.
The Center has a modern and well-equipped teaching and learning facilities that creates a good learning environment for students, combined with professionalism in training, enthusiasm and dedication of the good-job and practical experienced teachers for training to be skilled workers, job-mastering, making a persuasive "passport paper" for students in looking for job. Therefore, the training objective of the Center is to help leaners after graduation to gain immediate access to employment opportunities.
* What about the activities of the Center in the coming time?
– Currently, the recruitment orders of Japanese companies are still continued, we are afraid of not enough workforce to supply to Japanese partners, so will focus on vocational training and labor export to the key market is Japan; To intensify the training on professional fields that Japan partners to be needed such as construction, welding, casting, forging, sanitation, fishery workers, elderly care, etc. Enhance learning Japanese language in order to provide language for leaners, and labor export to Japan; IBCA Union will send good teachers on Japanese to teach at the Center.
In coming time, we will choose stable markets such as Japan to organize vocational training and labor export to mitigate risks, protect legitimate interests of exporters. The Center will work with a number of banks in the province to provide loans with low interest rates, creating better financial conditions for employees when they register for labor export.
* What is the criteria for the registration for learning and labor export to Japan of the Center?
– The criteria are quite simple. The leaners are aged from 19 to 30. Education: graduated from high school. Be good health, have demand for oversea-working. Learning Japanese language at qualification level so that Japanese partners can accept to workin Japan (learning at the Center). Be disciplined in working, diligence, etc.
* Thank you Sir!
(Source: baobinhdinh.com.vn)