On 26 June 2016, there are many international scientists arrived the Seagull Hotel – Quy Nhon city (Binh Dinh province) to participate in the series of the International Scientific Conference 2016 within the framework of the "12thMeet Vietnam"program chaired by the Rencontres du Vietnam.
The "12th Meeting Vietnam" would attract more than 1,600 international scientists and leading national scientists. Especially with the presence of 6 Nobel Prize-winning professors include Prof. David J.Gross (Nobel Prize in 2004); Prof. Jerome I.Friedman (Nobel Prize in Physics 1990); Prof. Kurt Wuthrich (Nobel Prize in Chemistry 2002); Prof. Finn E.Kydland (Nobel Prize in Economics 2004); Prof. Jean Jouzel – former Vice Chairman of the Intergovernmental Panel on Climate Change/IPCC (Nobel Peace Prize 2007) and Prof. Ngo Bao Chau (Field Medal 2010). Besides, including presence of politicians, representatives of reputable scientific organizations and big companies all over the world developing base on the science and technology.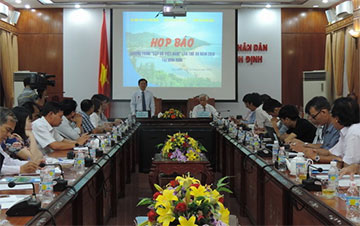 From 26 June to 17 December 2016, the International Centre for Interdisciplinary and Science Education (ICISE) will host 12 international scientific conferences. As part of this series of events, three International Physics classes will also take place at Quy Nhon University. The focus of the "Meeting Vietnam" this year is the "Basic Science and Society"conference will be held in two days 7 & 8 July 2016 at ICISE. There would have 250 participants at this important event, including Vietnamese government leaders, Leaders and former-leaders of Binh Dinh; leaders of members of the Rencontres du Vietnam and local and international scientists. The conference was organized to celebrate 50 years of the "Moriond Meeting"founded by Prof. Tran Thanh Vanin 1966, with the support of UNESCO, co-organized by the Ministry of Science and Technology, the Rencontres du Vietnamand Province People's Committee, in collaboration with the European Council for Nuclear Research, the SOLVAY International Institute.
This is the sixth consecutive year, Seagull Hotel has been chosen by Prof. Tran Thanh Van, President of the Rencontres du Vietnam to decide for accommodation to the scientists participate in the conference. This is also an opportunity for Vietnamese scientists and international scientists and local experts to meet, share knowledge and experience in the field of scientific research, and provide opportunities for young scientists of Vietnam are exposed to the advanced science of the world, thus integrating into the international scientific community.
(Source: www.seagullhotel.com.vn)