Thousands of workers are winning the harshness of weather to construct Trung Son hydropower project in Co Me valley (Trung Son commune, Quan Hoa district, Thanh Hoa province). Not only advance in the progress but also this is a site safety model project.
Arrival atTrung Son Hydropower Project, we plan to go to the construction site as soon as possible when arrived Co Me. Then the sudden afternoon rain caused the car can not move up. The next day morning jump into the car, driver of Trung Son Hydropower Management Board said: must use a special car for mountainous road and the drivingexperiencecan drive on this road, otherwise "you can not move on road" … Indeed, after an hour roughly driven, our car passed a road section less than … 2.5 km from the office of Project Management Board to themain construction site.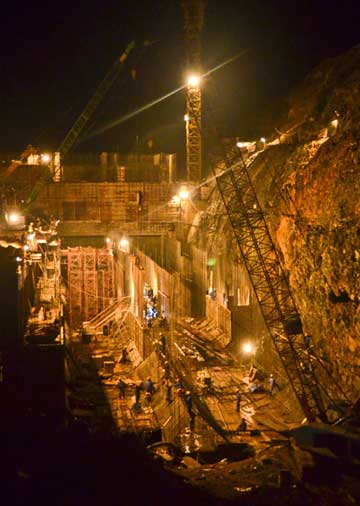 In contrast with the remote mountain is a busyand urgent working atmosphere, Phan Thanh Nhan, 29, from Nghe An province, is a worker of Construction Joint Stock Company 47 shared: "I used to work in the construction at dozens of hydropower plants in all over the country, but there is no place with the harsh climate like here. The rain is pouring out, the sun is shining brightly, so the construction of Trung Son hydropower plant met many difficulties, etc".
Nguyen Trong Luc, a worker who also attached to many hydropower projects, admitted "The weather in Co Me valley is so harsh. There was a day raining from morning to night, there was day withharsh sunny throughout the day. Not to mention, while it is sunny and raining, it is raining and sunny, etc. greatly affect our work".
Facing the above difficulties, to ensure the progress of construction work and to avoid extreme weather, Mr. Ngo Quoc Phuong, Deputy Director of Trung Son Hydropower Project Management Board said: The Contractor was requested to arrange for workers to work early and leave early (working from 6:30am to 10:30am and 14:00pm to 18:00pm) to ensure the safety on the health of engineers and workers at the job site but ensure the construction progress of the project.
Not just the progress …
In 2013, the works has two main objectives: to complete the flood control task before June 2013 and river blocking to be completed in December 2013. The flood control has been completed before 30 June, and now the job site is under construction ofthe diversion culvert, with the volume of excavation and filling reached 50%. As planned, it will be completed in October, 2013, but with the current progress, the works can reach the target 2 months ahead of schedule.
Observing the whole construction site, there are thousands of workers of Construction Joint Stock Company 47 are excavating rocks, installing rebars and pouring concrete. In particular, each construction team shall include one staff for safety and health care. These staffs are responsible for spending knowledge and checking on occupational safety and health measures to workers before working.
Mr. Nguyen Quang Chinh, AECOM Consultant, Main Supervision Consultant said as the analysis: "Trung Son hydropower project always requiredto comply withthe constructionsafety regulationsstrictly. It can be said that this is a model project of labor safety, environment and livelihood for theresettledpeople. From the commencement day till now, there is noserious accident occurred on the jobsite".
The gained results are just the beginning, there will be a lot of difficultiesahead. But with efforts of the Employer and the contractors are trying each hour and day to complete the items, bringing the project to the destination on time. (X.Vien – V.Luong)
As reported by Thanhnien.com.vn